How Safe Are Biosimilars? Implications of FDA and EMA Guidances and European Experience since 2006—Part 2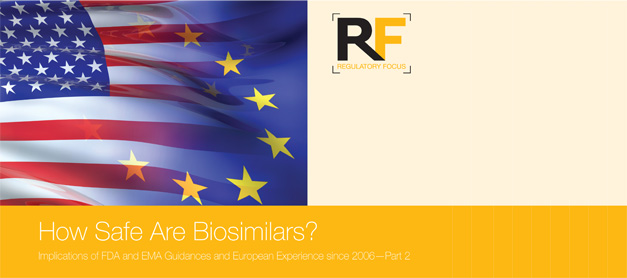 How Safe Are Biosimilars?
Implications of FDA and EMA Guidances and European Experience since 2006—Part 2
This two-part series provides insights into the new paradigm of biosimilar medicines based on approval and medical experience postapproval. It proposes a framework for the
understanding, development and acceptance of a new generation of biologic medicines, biosimilars, in the US and worldwide.
Currently, the knowledge gathered by regulators and industry permits a degree of confidence in biosimilars authorized in the EU after nearly six years of pharmacovigilance, providing reassurance in the regulatory approval process. Further safety aspects are explored in the following discussions, describing in depth the biosimilar development and regulatory approval criteria in Europe and the US.
At the same time, these articles attempt to dispel false perceptions contrary to the established safety and efficacy of biosimilars.